Catch and Release Tips ........by Perchmaster
Land fish quickly. Handle fish as little as possible and avoid holding with dry hands to prevent removal of protective slime coating.
Don't let fish bounce on the boat deck, carpet or on shoreline rocks and gravel. When using a landing net, soft knotless nylon or rubber nets are better than hard, knotted nylon.
Grasp most species of fish by the lower jaw and keep fish in the water if possible. Hold them vertically and support large fish with a hand under the belly.
Grasp toothy fish across the back of the head, with fingers and thumb holding gill plates closed. Watch out for sharp edges. Try not to grasp the gill plate area too hard so you don't harm the fish. I know that's easier said than done sometimes. If you must hold a fish by putting your hand through the gill opening, avoid touching delicate gills if at all possible. REMOVE HOOKS QUICKLY. Don't keep a fish out of water longer than you can hold your breath. Use long-nosed pliers or a de-hooking tool to remove deeply embedded hooks. If this fails, cut the line a few inches above the hook and leave it in the fish, but avoid this if at all possible. If you find you are often hooking your fish deeply, consider changing your methods to something less harmful.
Here are some diagram pictures to follow on how to remove gut hooked fish.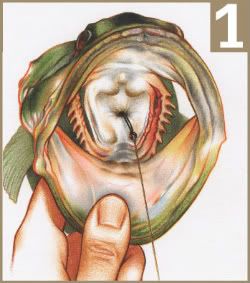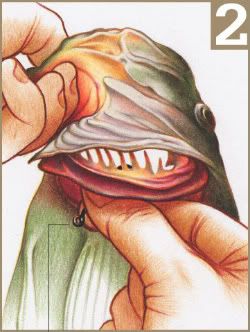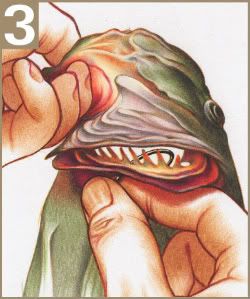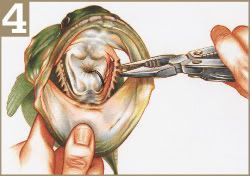 Diagrams are compliments of In-Fisherman MAGAZINE.